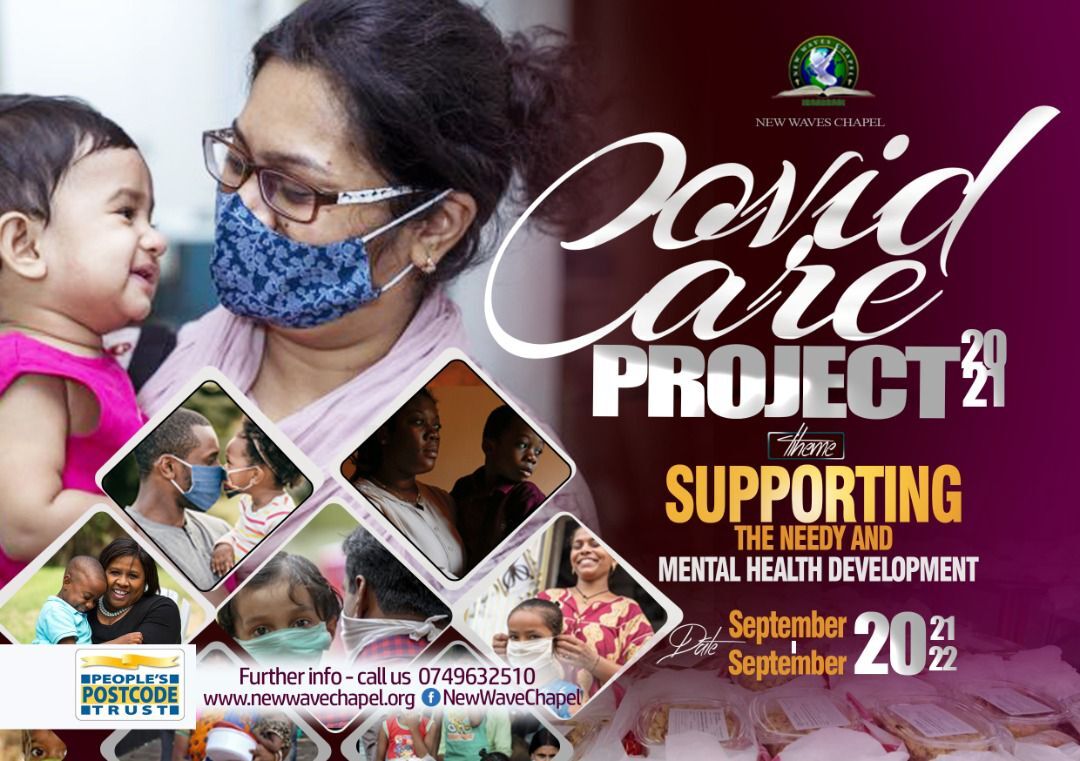 Purpose of the project:
We want to ensure that BAME lone-parent families struggling with poverty (due to low-income, or unemployment) get enough resources to survive and that they have the practical support to get through the COVID crisis. This will be done through the following initiatives:
Provide an online forum where single parents can interact with others who understand their plight. They can share experiences, tips, quick and simple solutions for them to navigate life in this season. Mental health counsellors will also be present to help parents deal with mental stress, anxiety and help prevent depression. This forum won't bring the pressures that come with popular socialising platforms, and has a clear focus (providing support).
Reducing the impact of poverty by providing some form of relief during a difficult period. Worrying about putting food on the table at the same time as job-searching, caring for children is very overwhelming.
Improving the mental wellbeing of lone parents who are struggling.
---
After months of isolation due to the pandemic and in the face of all these challenges, our team have been resilience in providing the needed support within our community. Hence, we thought its time to get out dusty boot on.
"Football match between New Waves Chapel and Pentecost. Demonstrating ministerial unity, sharing ideas and coming together to showcase our various God given talents"
During this pandemic these people are somewhat relegated. With this project we are making them our project and giving them the much needed attention at this time.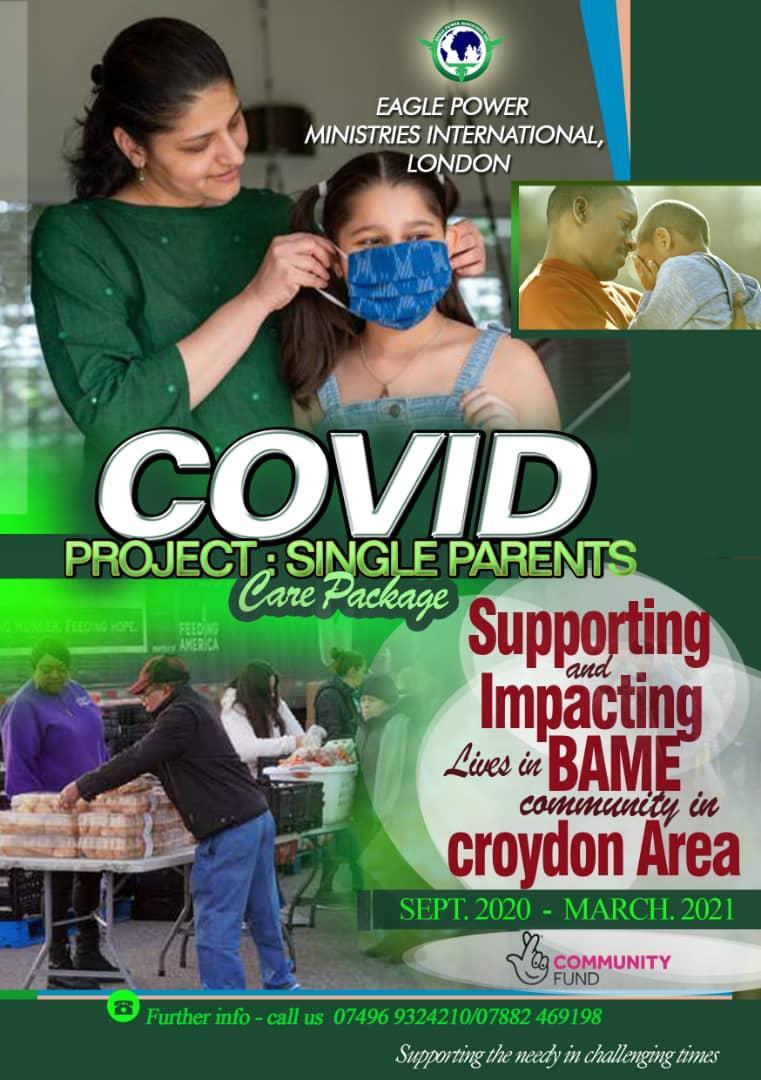 The COVID-19 virus pandemic has hit many lone parent families who are the sole breadwinners particularly those of the BAME community with Zero Hour contracts who cannot be furloughed. These families make up 21% of the Thornton Heath Community. Single parents are twice as likely as coupled households to live in poverty, to work in low-paying, insecure work and to rely on the benefits system.
Our immediate priority is to make sure that these families get enough resources to survive and that they have the practical support to get through this crisis. We would like to provide:
1. Online Support network; The provision of an online forum during the lock-down period for lone parents to interact with other people who understand what it's like to be a single parent in these unprecedented times. They can share experiences, tips, quick and simple solutions for them to navigate life in this season. Present on the platform will be mental health counselors available to help parents deal with mental stress, anxiety and help prevent depression. Whilst we are aware that there are other social media platforms that our beneficiaries may use at this time, this forum is one that they can use without the pressures that come with the popular platforms, and has a clear focus, which is facilitating and providing support.
HERE TO SHARE OUR LOVE AND SERVE OUR COMMUNITY

At new waves chapel community services is at the core of our ministry. Where we put God's love in action through our support for the community. The service we provide emphasis on meeting the social and practical needs before addressing the spiritual needs. Our food bank was started in response to the needs within Croydon, which was clear that individuals and families were struggling to afford the most basic necessities.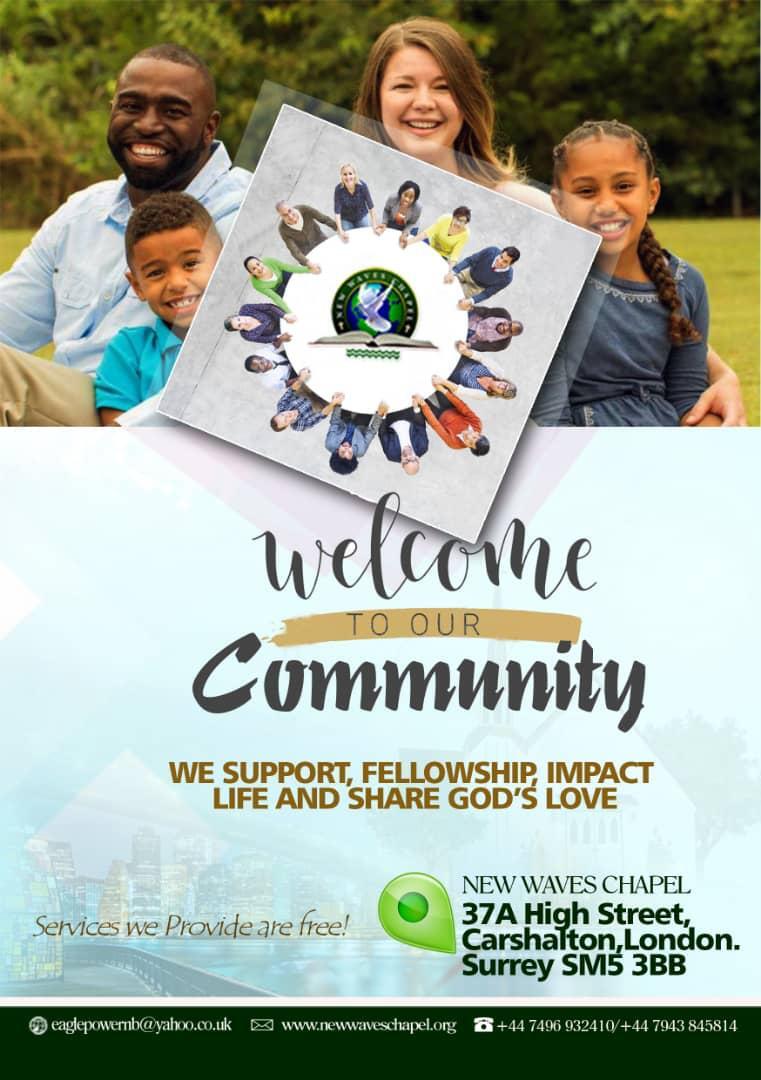 WHAT WE DO
FOOD BANK
The ministry runs several FOOD BANK services within the neighbourhood each year in partnership with Croydon Food Bank.
THE CHRISTMAS HAMPER SUPPORT
New waves chapel help Christmas hampers. Each hamper contains enough food for a family of four to have a traditional Christmas meal and additional food for the holiday period.
THE PRISON MINISTRY
Many people have family or friends in prison and for one reason or another are not able to get there to visit them. The ministry have trained Ministers that help to take part in a service organised with the Prison's Chaplain. They are able to console and talk to those who may not have anyone visit them whilst they serve their sentence. Our aim is to give them hope whilst they are in prison and help them with not reoending when they are released.
THE HOSPITAL VISITATION AND CARE TEAM
We believe in and act on God's promise and ability to heal the sick. The team has a heart to visit and pray for the sick in Care Homes, Hospitals and in people's homes upon request, as well as offering our support to families with new babies, bereaved families
This service is available to everyone in the Church and Community.
COMMUNITY GALLERY
Carshalton Park (outreach)
Our virtual prayer (telephone and video call) department provide emotional support if preferred by the individual. A member of the team is on hand to pray with callers, offer scriptural based solutions to difficulties, and encourage callers to seek counselling if needed. All calls are confidential to the department and church. Support line is available:
– Monday to Friday 10.00am – 10.00pm
– Saturday: 10.00am – 10.00pm
– Sunday 8am – 8.30pm
As a church and as a charity, we offer a broad social, health and economic help through our partnerships with other organisation to aid in the overall well-being. Below are some of the support services we provide through these organisations;
COVID- Care Package- Single Parent- 2020
We are please to update you on how our COVID- Care Package for Single Parent 2020 project :
Reviews from some of the beneficiaries
SUCCESS STORIES
"Disclaimer: all the success stories published on this site are the results of interviews conducted in the written form. Even though the editors may make some minor changes to the grammar, spelling, and/or punctuation, the respondents' writing styles, views, opinions, stores screenshots and personal photos are left unchanged."
More updates coming you way.
HELPFUL LINKS
Faith-based Organisations

Counselling

Association of Christian Counsellors
Tel: 0247 6449694
Website: www.acc-uk.org

Cornerstone Counselling Service
Address: 37 Brendon Street. W1H 5JE.
Tel: 0207 723 8050
Counselling available in Balham, Stratford, Greenwich, Croydon, Basingstoke, Streatham and Dorset. Skype counselling also offered.

Ellel Ministries Training and Ministry
Tel: 01252 794060
Website: www.ellel.org

Premier Lifeline
Tel: 0300 111 0101
Website: www.premierlifeline.org.uk

Pilgrims Hall Counselling
Email: team@pilgrimshall.org.uk
Website: www.pilgrimshall.org.uk

Sozo Therapeuo
Therapist Directory: Professional Counselling delivered by Christians.
Website: www.sozotherapeuo.com

Non Christian based Organisations & Resources

Addiction
Website: www.nhs.uk

Alzheimer's Society Helpline
Tel: 0300 222 1122

Age UK Advice
Tel: 0899 678 1174 for help with dementia also – 0800 888 6678

Beat (Beat Eating Disorders)
Beat provides helplines, online support and a network of UK-wide self-help groups to help adults and young people in the UK beat their eating disorders
Tel: 0845 634 1414

Big White Wall
Website: www.bigwhitewall.com

Bipolar UK
Services include a national network of self-help groups, training courses, a mentoring scheme supporting individuals in hospitals and community settings
Tel: 020 7931 6480

Birmingham Mind
Tel: 0121 262 3555
Email: wellbeing@birmninghammind.org
Website: birminghammind.org

Caring Dads Programme
Programme to help fathers improve their relationship with their children and end controlling, abusive and neglectful behaviours.
Tel: 020 8545 8500

Croydon Rape and Sexual Abuse Support Centre
T: 020 8239 1124
Email: info@rasasc.org.uk

Cruse Bereavement Care
A counselling and advice service for those bereaved by death throughout the UK. Providing advice, information and practical support.
Tel: 0844 477 9400
Website: www.cruse.org.uk

Childline
A free helpline for children and young people in the UK
Tel: 0800 1111

Distressed or in Crisis call 24 hour mental crisis line
Tel: 0800 732 2864 (free to call from any phone – landline or mobile)

Domestic Violence Services
Victim Support
Independent Domestic Violence Advocacy Service (IDVA)
Tel: 020 8685 1637

Family Lives
Advice on all aspects of parenting
Te: 0808 800 2222
Website: www.familylives.org.uk

Get Self Help
Cognitive Behavioural Therapy (CBT) and therapy resources to help mental health problems.
Website: www.getselfhelp.co.uk

Group treatment programme for children who witness woman abuse.
Therapy for children aged between 4 and 16 who have experienced any form of violence or abuse in their family.
Tel: 020 8404 7973
Men's Health Forum
24/7 stress support for men by text, chat and email
Website: www.menshealthforum.org.uk

Mental Health Foundation
Website: www.mentalhealth.org.uk

Mental Health Support Line
Tel: 0800 731 2864

Mind
Website: www.mind.org.uk

Moodzone
NHS website offers practical, useful information, and interactive tools to boost mood, cope with stress and anxiety
Website: www.nhs.uk/moodzone

National Helpline
Tel: 0845 122 1331
Email: info@rasasc.org.uk

NHS 111
This service is available 24 hours a day, 7 days a week
Tel: 111

NHS Direct
Tel: 08457 4647
For health advice and reassurance, 24 hours a day , 365 days a year

OCD Action
Provides support and information to anybody affected by OCD
Tel: 0845 390 6232

Parents' helpline
Tel: 0808 802 5544
Website: www.youngminds.org.uk

Recovery Colleges
Website: www.nhsconfed.org

Refuge, outreach and IDVA
Tel: 0117 961 2999
Email: info@survivedv.org.uk

Rethink
Provides mental health information and advice on practical problems
Website: www.rethink.org

Samaritans
Tel: 116 123
Website: www.samaritans.org

Saneline
A mental health helpline offering specialist emotional support and information to anyone affected by mental illness.
Tel: 08457 67 80 00

Solidarity In A Crisis
Tel: 0300 123 1922
Text: 07889 756087 or 07889 756 083

The British Association for Counselling & Psychotherapy
Website: www.itsgoodtotalk.org.uk

The Sanctuary
Address: 65 Effra Road SW2 1BZ (Mosaic Clubhouse)
Tel: 0207 924 9657

YoungMinds
Information on child and adolescent mental health. Services for parents and professionals.
Website: youngminds.org.uk
Courses and Freebies

Futurelearn – free access to online courses
The Open university is offering some free courses
Money Saving Expert – free access to activities.
Children

Helping Children cope with stress
Supporting Children and Young People
Talking to Children about Coronavirus: YoungMinds, The British Psychological Society
Children and Grief
Coronavirus: Dave The Dog
Bereavement and Grief

Coronavirus dealing with bereavement and grief
Coronavirus Grief and Trauma
Bereavement Support Group – for New Waves Church Partners and Family. Fridays weekly from 10am- 10pm.To register please complete a referral form and email to: Henry. Biney@newwaveschapel. org.
Education and Training
Give a person a fish and they eat for a day – teach a person to fish and they eat for life.
Education is very important in all walks of life and human development.
New Waves Chapel have partner with New waves Training Centre to train people to bring the best in them.

National Vocational Qualifications (NVQs) are based on national occupational standards. These standards are statements of performance that describe what competent people in a particular occupation are expected to be able to do. They cover all the main aspects of an occupation, including current best practice, the ability to adapt to future requirements and the knowledge and understanding that underpin competent performance. Visit us on http://newwavestrainingcentre.co.uk/